March 14–17, 2018
Applications are now closed. Deliberations will start shortly, and results will be communicated by mid-January.
Comments from our
2015 JIC judges!
"We were surprised by the level of talent, especially since the ages range from 13 to 17. I'm very encouraged for the future of music if these are the talents we have."
"I was thrilled with the level and commitment of every one of the semi-finalists and feel so satisfied and happy with the outcome of today's finals. It was a privilege to hear these talented young musicians, and the legacy that Mrs. Johansen has endowed is truly a worthy and necessary endeavor to carry forward our intimate art."
Featured Artist
Matthew Lipman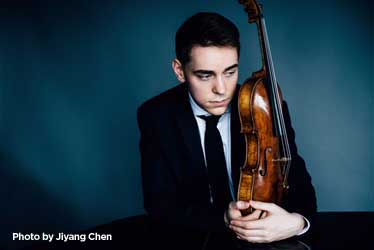 Brilliant young violist Matthew Lipman won first place in both the JIC (2009) and the WIC (2012), our only winner with this distinction!  Matt tells us, "I can't believe it has been almost 10 years since I applied for the Johansen Competition! I distinctly remember the excitement and indeed fear I had signing up because I knew it was my first international competitive experience. It was also the largest amount of repertoire I had ever had to prepare up until that point. 
At the time, I was most intrigued by the $10,000 prize, some of which I used to finance my college education; however, as time passed, two other aspects of the experience became more valuable.